3 ideas to innovate in the management of individual interviews and employee performance
Individual annual interviews are often perceived as inefficient and a source of stress for employees. Yet they play a crucial role in the professional development, motivation and performance of teams. In order to transform these moments into real growth levers, it is time to innovate and rethink traditional approaches. In this article, discover 3 ideas to innovate around interviews and performance that address these issues.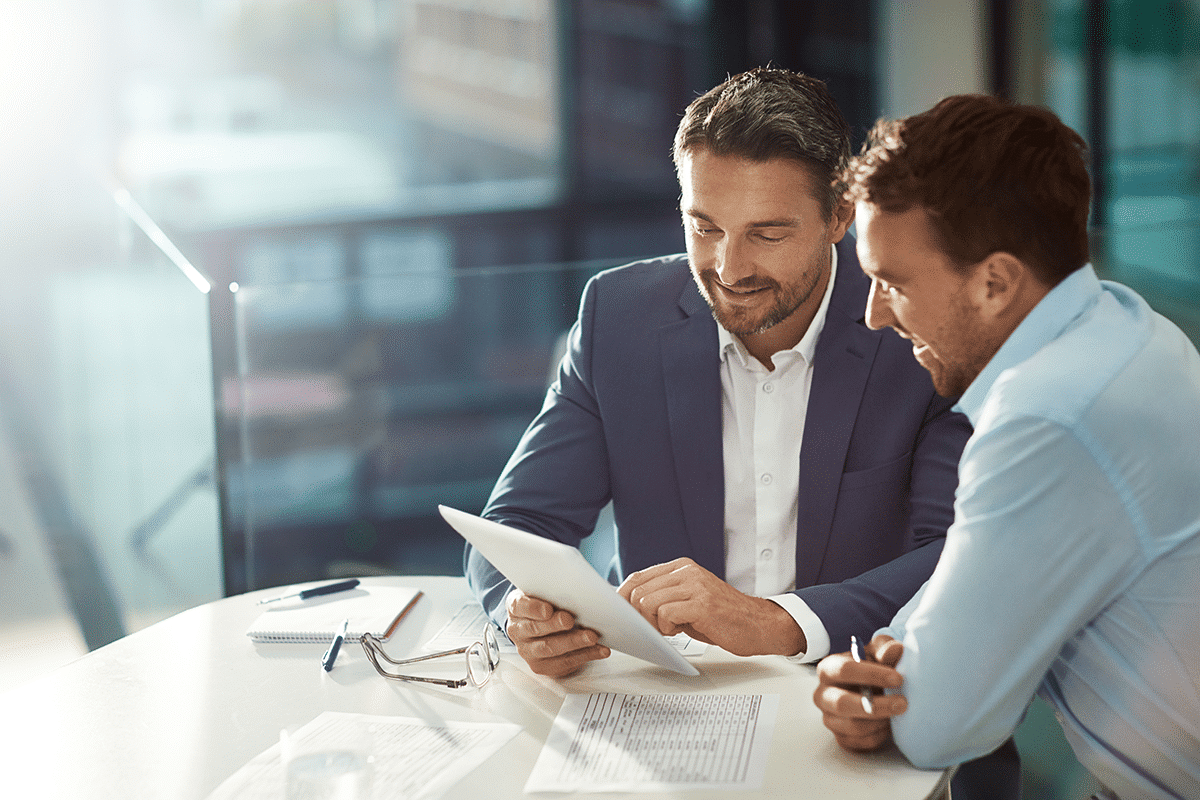 It's hard to have a successful annual review when surveys show that employees feel it is ineffective. The cause: processes and formats that are not always modern, management that is reluctant to review their methods and a lack of communication. The temptation is strong to replace one tool with another when a process malfunctions. Among the pitfalls regularly encountered are the lack of fluidity in the format of annual interviews and unsuitable competency matrices. This creates frustration for both employees and their managers who are supposed to support them.
According to Javelo an HR platform for performance management and talent management, a majority of employees (58%) consider that the annual appraisal interview is a moment that is expected and appreciated. However, no less than 41% of respondents fear it. 48% of them even consider this appointment as a stress peak in the year. Indeed, this is a time when major stakes for their professional life are at stake (work environment, salary, career development). Individual interviews have an impact on team motivation and represent a structuring and reliable tool for your HR policy (evaluation, career management, detection of potential, skills development plan, individual and collective performance monitoring, etc.). These approaches should be an agile and flexible tool, not a burden for managers.
Innovation in talent management is therefore key to making the interview process meaningful and developing the perception of efficiency.
We invite you to discover 3 innovative ideas to innovate the management of individual interviews and the performance of your employees.
Idea #1: 360° feedback to innovate the employee evaluation process
Studies are unanimous: we need recognition and this recognition comes from the feedback we receive from the people around us. In France, in the professional world, 81% of the respondents say they need to know both what they are doing right and what they are doing wrong. 55% feel they lack recognition, 61% want more positive feedback and 48% want more corrective feedback (MoreHuman Partners study).
According to a study published in Harvard Business Review, 72% of employees also believe their productivity would improve if their managers provided more regular feedback. Finally, less than half of employees say they receive feedback regularly, according to a joint SuccessFactors and Oxford Economics study published in 2020.
feel they lack recognition
want to receive more positive feedback
The 360 feedback is an individual evaluation process that includes comments from all the actors in contact with the evaluated employee in order to establish a complete and precise analysis of his/her professional profile. These stakeholders are line and functional managers, colleagues and subordinates. It can also include comments from direct or indirect stakeholders (customers, suppliers) as well as the employee's own assessment.
The final objective is to define a tailor-made development plan for each assessed employee by detecting his or her strengths and areas for improvement. The most interesting idea is to get a complete picture of an employee's performance. This is the main advantage of 360 degree feedback. This makes it possible to accurately identify an employee's strengths and weaknesses since his or her work activity is evaluated from many different angles (internal, external, horizontal, vertical, etc.).
By only asking managers to evaluate their team members, the results can be biased. Indeed, an employee generally does not behave the same way with his manager as with his peers. 360 feedback allows colleagues to evaluate each other and thus obtain an overall profile of the performance of a team or department.
The 360 evaluation also allows teams to give feedback on how they are managed. Thanks to the results of the study, the team leader knows exactly how to optimize his management.
Starbucks, for example, has employees evaluate their entire team. The company is known for its performance management and attention to detail. As for the evaluation interviews (which are semi-annual), they are conducted in each establishment by the general manager of the establishment. To do this, it relies on both the employee's self-assessment (based on the same model as his or her own evaluation grid), but also on 360-degree feedback, based on a series of criteria defined by the entire team, from managers to cashiers.
The objective is to foster team spirit: since everyone is committed to the individual performance of his or her colleagues, the collective performance is ultimately improved. This works especially well in small teams, where speech can be released more easily, if everyone understands that it is the collective that is important…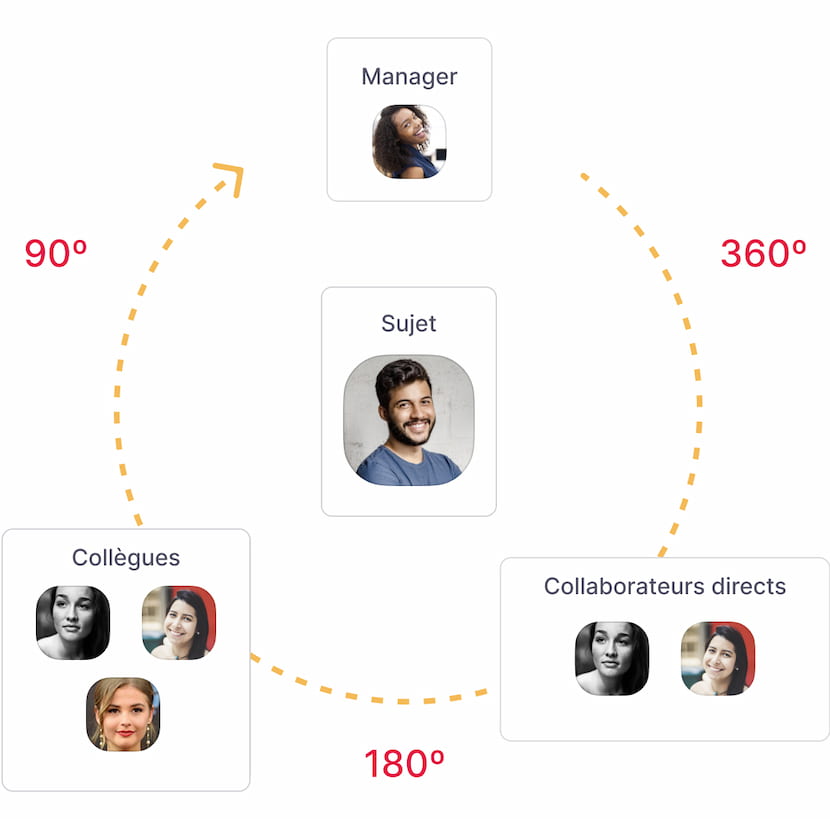 Source: https://www.zavvy.io/blog/360-feedback

In 2023, it is also essential to mention Artificial Intelligence (AI) technologies, thanks to which it is now possible to collect a multitude of comments, in order to identify mobility wishes for example.
At SQORUS, employees have the possibility to ask for feedback to any person in the company with whom they have worked (internal project, customer assignment). Since the end of 2022, SQORUS also practices 360 feedback, and each employee can give feedback to his manager. This allows the manager to know how he or she is perceived, and can also improve his or her performance and that of the company. Sharing a perception with a superior is certainly an act that may seem courageous, but daring to take this step can raise awareness in the other person and improve the way you work with him or her.
By integrating feedback from various stakeholders, such as managers, colleagues, etc. into the management of individual interviews, companies can truly transform their approach to performance evaluation and foster the professional development of their employees.
This method allows for a more complete and accurate assessment of individual performance, thus providing clear perspectives for talent management and human resources management. The evaluation becomes more balanced and reflects a global picture of each employee's strengths and areas for improvement. This approach also encourages transparency and communication within teams, fostering a climate conducive to collaboration and skills management.
To anticipate the recruitment challenges of tomorrow, it is essential to develop solid adaptation strategies. In our dedicated article, you will find the keys to adapting as a recruiter and staying and remain effective in a constantly changing environment.
Idea #2: The OKR method to improve employee performance
TheObjectives and Key Results ( OKR) methodology is a performance management and strategic planning framework used to define clear and measurable objectives and the key results that must be achieved to reach those objectives.
The OKR method consists of two main elements: objectives and key results.
Objectives
Goals are clear and ambitious statements of what you want to achieve.
Results
Key results are quantitative measures that indicate whether progress is being made toward the goal.
The OKR method is often used in companies to align employees' goals and efforts with the company's strategic objectives.
The key steps to implement the OKR method are as follows:
Define the objectives: the objectives must be clear, ambitious and aligned with the company or project strategy.
Identify key results: Key results must be specific, measurable and achievable. They must be quantifiable to allow for an objective assessment of success or failure.
Define measurement indicators: Measurement indicators are the data or statistics used to assess progress toward the achievement of key results.
Tracking progress: It is important to regularly track progress toward key results so that actions can be adjusted accordingly to achieve the goals set.
Review and adjust objectives: Objectives and key results should be regularly reviewed and adjusted to ensure that they are still relevant and aligned with the overall strategy.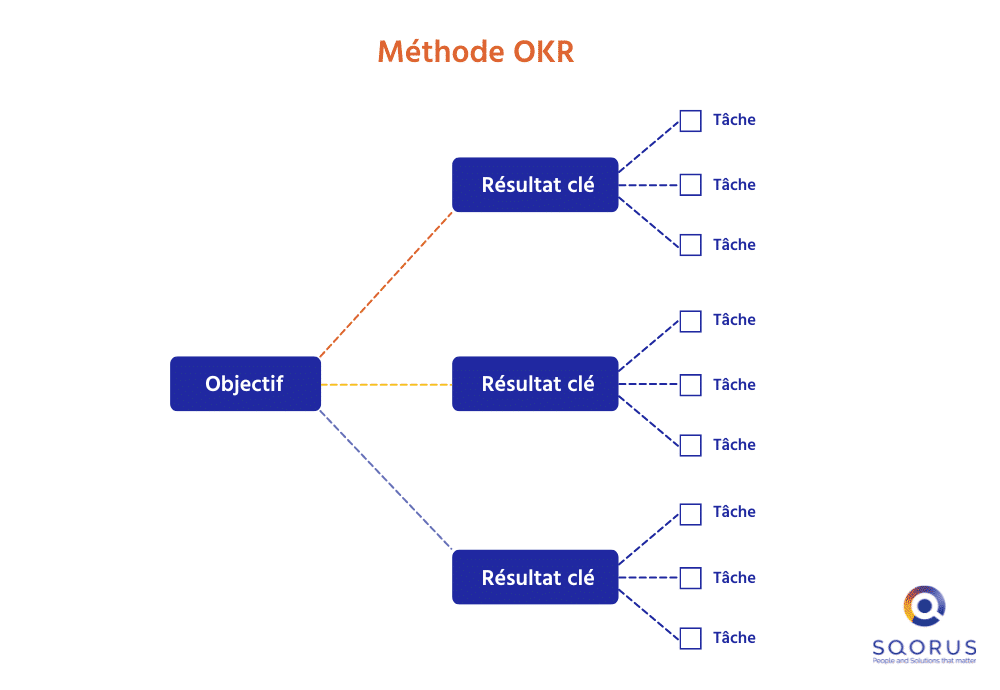 Here are 2 examples of OKRs to illustrate:
Goal: Write a novel by the end of the year
Key Result: Write 1000 words every day
Key Result: Find a publisher
Objective: Increase sales by 30% within 6 months
Key Result: Launch lead acquisition campaigns
Key Result: Follow up with prospects not contacted in the last 3 months
Key Result: Re-engage satisfied customers by offering them complementary products
The OKR method is a simple approach that allows us to connect each of our actions to our goals. On the other hand, one should not confuse objectives with performance. The objectives of the OKR method must be decoupled from the variables that determine remuneration. This allows the method to be better accepted without becoming yet another race to the bottom, on the one hand, and to complement rather than replace existing tools, on the other.
A goal must be based on a careful balance between ambition and realism. It is not very common in France, but filling a target to 100% is not a good result. On the contrary, it indicates that the objective was certainly poorly defined. Finally, as in any transition process, it is necessary to give yourself time.
By using the OKR method, companies can create a culture of transparency and alignment, where every employee clearly understands the ambitious and measurable goals to be achieved and the key outcomes that measure their success. The professional interviews thus become the right time to discuss professional projects, evaluate the progress made and adjust actions accordingly.
By allowing better human resources management and greater transparency in the objectives and key results, this method contributes to the success of annual appraisal interviews and to the development of employees within the company.
Idea #3: Towards an end to the annual interview?
Probably the most common HR practice in companies, the annual appraisal interview can be perceived as a generator of stress and frustration rather than a true source of development.
Many large American companies have chosen to eliminate the annual interview.
Microsoft, Dell, IBM, Adobe or Netflix: these technology giants have simply decided to abolish the annual interview and replace it with a continuous evaluation – or almost. Most of these companies opt for "check-ins", i.e. quick moments of feedback. This is done on a quasi-permanent basis and in a much more informal way. Cargill, in the food industry, has set up an Everyday Performance Management system. Others have even opted for the ongoing assessment. For example, by going so far as to install a module on their e-mail server, allowing everyone to evaluate a colleague's work in one click, by return e-mail.
The goal is to stop looking in the rearview mirror.
"By focusing heavily on the financial rewards/punishments of the past year, annual performance reviews hold people accountable for their past behavior. In doing so, they do not seek to improve current performance or prepare future talent." – Harvard Business Review Magazine.
No longer focusing on the past, constantly optimizing employee performance and quickly identifying promising behaviors: this is the objective sought by companies that have decided to do away with annual performance reviews. Innovative companies have abandoned the classic annual interview in favor of regular "discussions" that allow for real-time performance management and the development of employees' talents and potential.
In summary, the abolition of the annual appraisal interview in favor of a continuous appraisal reflects a positive evolution in the management of individual interviews. By integrating this approach into their human resources policy, companies can promote professional development, skills assessment and employee performance, while adapting their professional project management to the requirements of the current market.
Conclusion on innovation in the management of individual interviews and employee performance
In conclusion, the management of individual interviews should no longer be perceived as an administrative chore, but as a real lever for development and performance for employees and the company as a whole. By integrating these innovative approaches, you will create an environment that fosters growth, motivation and collective success.
The management of individual interviews and employee performance is a vast subject that requires regular monitoring and a great ability to adapt. In addition to the 3 examples cited here, SQORUS, a consulting firm specialized in digital transformation, supports its clients on a daily basis on the subject, thanks to its LAB which carries out a permanent watch on innovations. If you are interested in this topic, please contact us to discuss it.
It's time to take the next step and reinvent the way you manage individual interviews to unleash the full potential of your employees and build a culture of excellence within your organization.
Are you interested in the subject? Our experts answer you!
Innovation with the LAB SQORUS You have a use case and you want to think in collective intelligence on the subject, do not hesitate to contact us so that we put our multidisciplinary teams at your service.
Are you interested in the subject of innovation? Discover our LAB SQORUS
Our innovation blog provides analysis and bold ideas to address the major issues facing organizations today in HR, Finance and IT.
For more innovations, find articles on the same theme:
3 innovations RH sur la rémunération en 2023 La rémunération occupe une place cruciale dans l'attraction et la rétention des talents au sein des organisations. Les professionnels recherchent des emplois offrant une rémunération compétitive, répondant à leurs besoins...