The future of the workplace: what trends and innovations for 2024?
With the widespread adoption of flex offices, the evolution of workspace management, and the rise of telecommuting, the world of work has undergone a significant transformation in recent years. However, one question often goes overlooked: What is the new identity of these organizations following these changes, and what are the consequences of not reflecting on this? How can we create a workplace that encourages people to come together, engage in real face-to-face discussions, and embark together on the adventures and innovation projects that will change the world?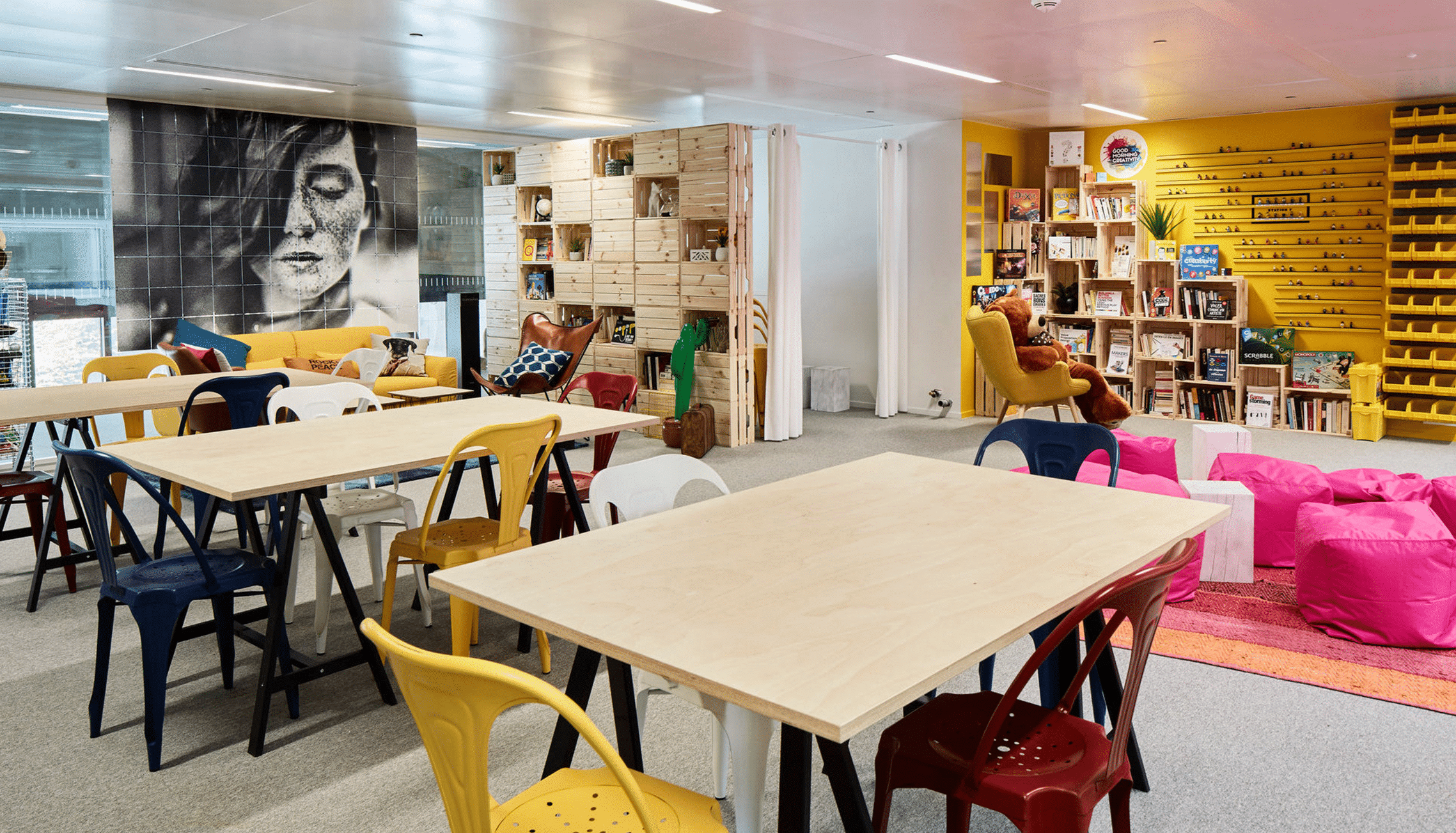 Creativity Room at Station F designed by Good Morning Creativity
Photo Credit: Roberto Frankenverg, New York Times

The workplace has undergone significant changes in recent years, especially in response to the COVID-19 pandemic. Some companies have accelerated their transition to flexible office arrangements, office management solutions have gained prominence, and the majority of organizations now offer 2 days of telecommuting per week, or even 100% remote work, abandoning their traditional fixed offices.
Nevertheless, a few questions remain under-addressed or poorly explored: What is the new identity of an organization following all these changes? How does the absence of this questioning impact the organization's performance? Do we really need physical offices to work, learn, progress, or innovate? If so, what kinds of setups, organizational structures, cultures, and impacts on the future of the company should be considered?
I will address these broad questions in a future article, but for now, I will share some workplace trends for 2024.
Trend #1: the Workplace as a Place of Life and Co-Creation
Today, our activities are more diverse and varied.
Workspaces
need to be designed in a way that allows employees to engage in multiple types of activities within the same day. For example: starting the day with a one-on-one meeting with a manager, followed by a workshop, a lunch with several people, and participation in a conference. This involves providing
areas with various purposes
: we refer to these as activity villages that are tailored to the
activities
and
culture
of the company.
Today, we don't come to the office to work alone in a corner. We come to participate in collaborative projects, to solve operational problems more quickly, and to contribute our ideas and expertise to strategic projects. We need spaces and tools (both physical and digital) for co-creation and collaborative work.
Through
physical spaces
, we help employees slow down their work pace by providing quiet corners for moments of reflection or reading between meetings. The aim is to offer a breathing space in which the employee can spend time in silence, completely disconnecting from work-related issues and concerns.
Throughout the day, employees receive a vast amount of information and engage in numerous exchanges. A dedicated space for rest, reflection, and disconnecting from work-related matters can have a significant impact on productivity, well-being, and employee retention.
In recent years, several concepts have emerged in companies, such as library spaces, massages, or even nap areas, to support these principles.
Trend #3: Evolving the work environment to address employee disengagement and mental health challenges
The labels "Happy at Work" or "
Great Place to Work
" are no longer sufficient to guarantee a workplace where people are genuinely happy.
HR and management
must demonstrate resilience and high standards to ensure that behind the golden facade, there are no human tragedies hidden. This involves more regular listening, support for mental health, and a comprehensive reorganization of the company that prioritizes the well-being of everyone.
Does this sound trivial to you?
of full-time employees report experiencing symptoms of burnout at least occasionally (if not bore-out).
Professional life is no longer limited to the work done and the goals achieved. Employees are looking to grow, learn new things, make friends, enjoy good times, and build projects that create value for society, the city, the environment, and themselves. But for this, it is necessary to maintain physical presence to create and enrich social connections.
Trend #4: is it the end of the honeymoon with remote working?
It had us fully embrace remote work, and yet, the company Zoom is now encouraging its employees to return to the office. The American company behind the video conferencing software of the same name has indeed asked its employees to reduce their remote work days without completely eliminating it.
Employees who live within 80 kilometers of a Zoom office (in the United States and beyond) are required to be present at least 2 days a week since September 2023. Zoom refers to this as adopting a "structured hybrid approach."
Known as the "Return to the Office" or RAB phenomenon, this trend is also becoming noticeable in France.
So, it's a return to the office, but in a completely redesigned, furnished, and equipped workspace. To share some inspiration and solutions, we interviewed Petronela ZAINUDDIN, founder of GOOD MORNING CREATIVITY, a design studio specializing in creating spaces for innovation, creativity, and active learning.
Back to the office in a redesigned space with GOOD MORNING CREATIVITY
Hello Petronela, what are the issues for which clients approach you?
"The first one: they want to democratize innovation, create a true culture of innovation. This initiative is often initiated when the company is relocating; they take the opportunity to redesign the workplace. COVID has been an accelerator for us because remote work has pushed companies to rethink their spaces.

We foster innovation physically, through the design of various spaces that provide a real playground. These spaces are dedicated to experimentation, learning, co-design…

These spaces are also intended to be open to the outside because it's often about bringing the company's partners or clients in to co-create future innovations together.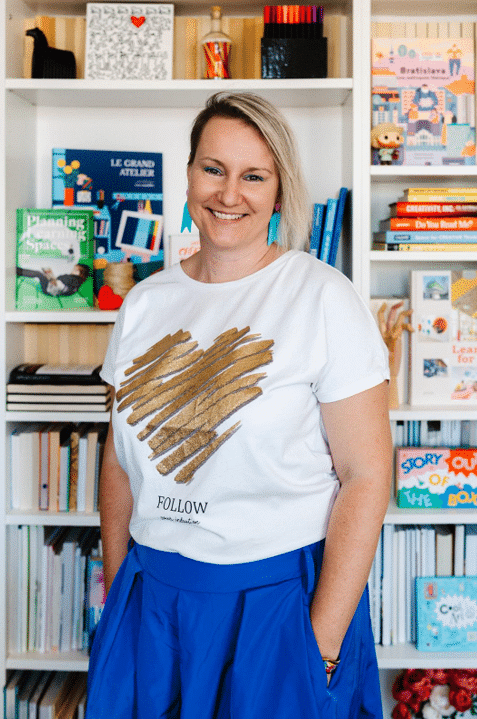 Petronela Zainuddin
Photo credit: Elsa Lebaratoux
The second issue is more related to training centers, schools, or learning environments in general. They aim to add a playful and active dimension to learning. This includes learning soft skills such as empathy, creativity, public speaking, cooperation, leadership, and more.

To develop these skills, learners need to practice, observe, analyze, and build something tangible to better understand.

Our clients want to move away from academic training and shift towards workshops, practical exercises, prototypes, or role-playing. Therefore, it's necessary to adapt the spaces to these new forms of learning and make them inspiring and functional."
Could you tell us about how you've approached things with some clients?
"Over the past 6 years, we have been working with ACADOMIA, a specialist in education, to create their co-learning spaces and make their private middle and high school, ÉCOLE A, more enjoyable and suitable for the active, playful, and cooperative learning of young students.

We have also worked on their headquarters and training center, where they train their employees as well as teachers. These are projects that span several years.

To develop them, we use the Design Thinking methodology. We involve employees right from the beginning by conducting multiple co-design sessions. We try to have a variety of expertise and age profiles to identify their needs. We ask them questions such as: How do you want to work? What do you envision for the company of tomorrow? What is the role of collaboration, creativity, and innovation in your work…

We also show them different visuals to inspire them with future trends and projects carried out with other clients."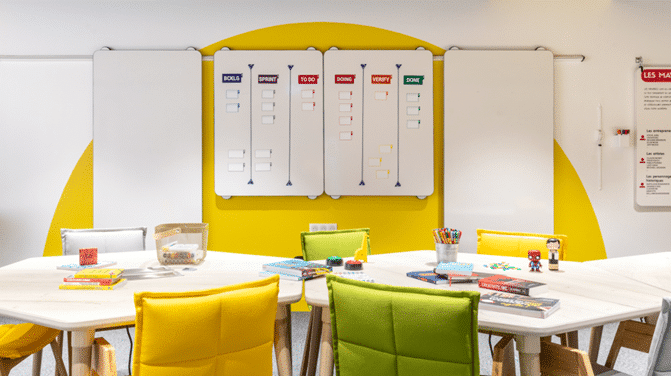 Design Lab at ACADOMIA designed by GOOD MORNING CREATIVITY
Photo Credit: Alain Delange
"We have redesigned the entire headquarters with its different floors, creating a journey and activity villages. On the ground floor, behind the reception, we have provided a dedicated coworking space for employees from different regions who come occasionally. Meetings with clients and partners are held there every day.

Small meeting booths are ideal for small group meetings, whether among colleagues or with external partners; these environments create a comfortable atmosphere for work. We added a company cafeteria in the basement that can transform into a conference venue during monthly meetings with all teams. To strengthen the culture of educational innovation, we created a Design Lab for design thinking workshops, with hexagonal tables on wheels, movable partitions, and a variety of creative tools…

Then, the final stage of our project: storytelling. Once the physical space is arranged, we tell a story by dressing the walls. In ACADOMIA's case, we drew inspiration from Montmartre's "I Love You" wall to create a "Learning Differently" wall written in all languages of the world. The effect is fabulous when people from different cultures gather in this place; they all start looking for their native language. We also set up a giant Scrabble game in the cafeteria… The idea is to make the spaces pleasant while also making them communicative to the public. Every square meter, whether on the floor or the wall, should communicate."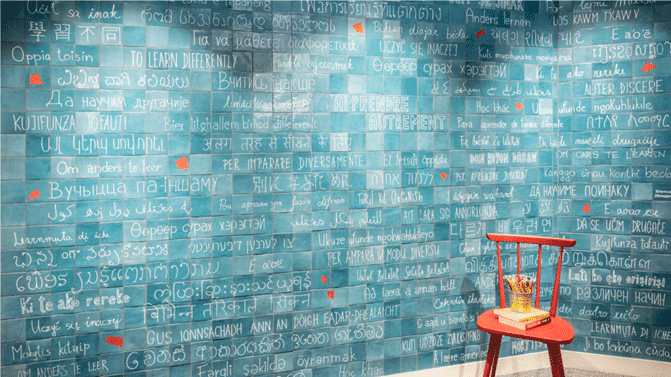 "Learning Differently" Wall created by GOOD MORNING CREATIVITY
Photo Credit: Alain Delange
"It's important that the physical spaces of the company reflect its values.
Let's imagine that one of the company's values is agility, but when you visit the company, you notice that employees have fixed computers and landline phones. We can all agree that this does not in any way reflect the flexibility and agility of the employees. They should have all the necessary tools to make them mobile, agile, and flexible."
What has been the feedback following this project?
"Overall, it's very positive. Employees feel more involved and motivated in these redesigned spaces. Their work becomes more varied, their day more interesting, learning opportunities more accessible, and their involvement in innovation and the company's future more significant.

Of course, there are always improvements to be made in certain areas. It can happen that some areas are not used as we initially imagined. Client demands evolve between the beginning and post-project, and usage patterns become different. We see this at Acadomia: we had planned a cabin for the printer, and in the end, they changed it because the location was too noisy for employees. There should be no fear of making changes and adapting the physical space to the company's life."
How do you measure the project's impact?
"When it comes to a project related to innovation, it's quite straightforward because we have a matrix of positive impact BEFORE and AFTER the redesign. For example, we ask the client:

the number of trained facilitators, who can now lead workshops independently;
the level of skills in innovation and applied creativity;
the number of workshops (co-design, co-creation, design) organized in a month;
the time allocated to experimentation (individually or in teams);
the number of patents filed (if the client is in the industrial sector);
the number of pilot projects that have emerged since the project;
client engagement in these pilot projects.
Regarding the impact of our project for Station F (the largest start-up incubator by Xavier Niel) for which we designed the creativity room, the impact was measured differently. Since the room is rented to external parties, there was an impact on revenue.

There was also an impact on visibility; an article with a photo of the creativity room was published in The New York Times."
Conclusion on the Future of the Workplace and Trends for 2024
In conclusion,
workspaces
are becoming modular and transforming into a collection of places and services.
Their design goes far beyond contributing to the well-being of employees; it enhances their performance and positively impacts company revenues. However, form, although necessary, is not sufficient. Many challenges must be addressed, whether it's employee engagement, support for the physical and mental well-being of employees…
If you are interested in topics related to HR innovation or AI applied to HR, you can contact our LAB to discuss further.
Are you interested in the subject? Our experts answer you!
Innovation with the LAB SQORUS You have a use case and you want to think in collective intelligence on the subject, do not hesitate to contact us so that we put our multidisciplinary teams at your service.
Are you interested in the subject of innovation? Discover our LAB SQORUS
Our innovation blog provides analysis and bold ideas to address the major issues facing organizations today in HR, Finance and IT.
For more innovations, find articles on the same theme:
Implementing CSR within HR: beyond the social aspectHow to implement sustainable and responsible HR practices to make CSR fully operational within the HR function? While the social/societal aspect of CSR seems closely related to HR, what about the environment, for...