 Innovation with the LAB SQORUS
Innovation with a positive impact, a true DNA of SQORUS, is part of our CSR commitment. We put our creativity and inventiveness at the service of HR, IT and Finance functions. We have centralized our expertise on the subject within the SQORUS LAB.
The SQORUS Lab is part of our CSR strategy and in particular our pillar "Innovate to have a sustainable impact".
Its objective is to help practices evolve in an ever-changing world of work, and to detect and experiment with innovations that have a positive impact on our ecosystem.
Activities include:
Exploring the future through trend analysis via monitoring and forecasting
Rely on the diversity of our talents and multidisciplinary teams to guarantee the greatest possible synergy
Infuse new ideas and experiment internally at SQORUS with positive and sustainable impact solutions
Share our knowledge with our partners and seek new solutions together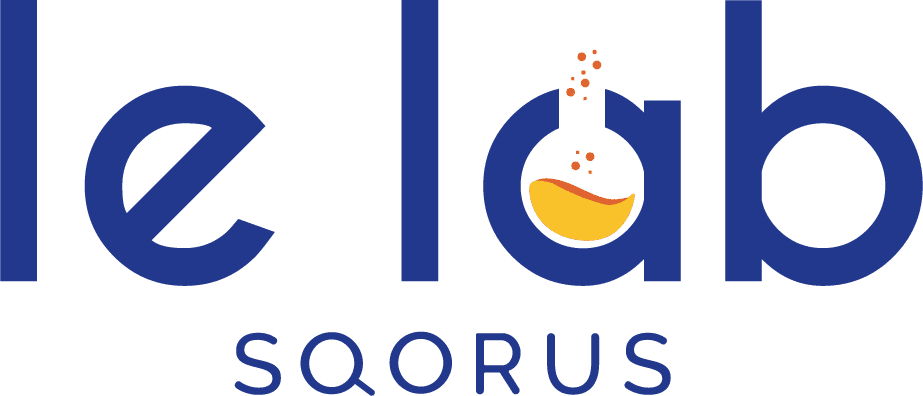 Deploy innovation projects for HR, IT and Finance functions
We are at your service to deploy 3 types of innovations:
Innovations in processes and practices
Our multidisciplinary teams, thanks to their monitoring of trends, can accompany your teams in the collaborative reflection of your new uses in order to modernize and respond to your problems in terms of HR and Finance processes.
Do you want to develop innovative practices?
We offer several formats:
Customized collaborative workshops
Seminar on a common theme
Incremental or disruptive innovation of your HR and Finance processes
Our multidisciplinary business and IT teams are at your service to address your digital issues: customization of solutions, development of POC (Proof of Concept) forAIprojects, Big Data, Chatbot…
Our business experts will guide you in expressing your needs, taking into account UX and mobility issues. Our developers will accompany you in the implementation of the POC, from the choice of technology to its integration.
Want to test a solution before deploying it?
We accompany you on various axes:
Design of the new solution
Custom solution development: take advantage of our expertise in low-code solutions for a quick implementation
Setting up tests and taking charge of corrections
Integration and management of interfaces with other solutions
Managerial and organizational innovations
Our multidisciplinary teams are here to support you in the implementation of new managerial and collective practices, taking into account the current challenges of your organization.
Whether it is to define new postures on the management of space and time in the context of hybrid work or to develop new CSR / Care skills in your managers, our teams are here to help you.
Do you want to deploy new managerial practices or new forms of governance?
We help you to :
Deploying new managerial postures and practices to break down silos in your organization
Accompany and coach your managers
Establish a more participatory governance
"The world hates change, yet it is the only thing that has allowed it to progress."
"Those who can imagine anything, can create the impossible
Go further with the LAB SQORUS
You have a project in mind?
You have a use case and you want to think in collective intelligence on the subject, do not hesitate to contact us so that we put our multidisciplinary teams at your service.
Our innovation blog provides analysis and bold ideas to address the major issues facing organizations today in HR, Finance and IT.
For more innovations, visit the dedicated blog!