SQORUS, GREAT PLACE TO WORK FRANCE
Since 2015, SQORUS has been voted a great place to work.
SQORUS EST CLASSÉE 4ème ENTREPRISE FRANÇAISE GREAT PLACE TO WORK, 50 A 250 SALARIÉS
Great Place To Work® (GPTW) est la référence mondiale en matière d'expérience collaborateur. Présente dans plus de 60 pays depuis 1992, son objectif est d'aider les entreprises à mesurer la relation de confiance entre les collaborateurs(rices) et le management, d'améliorer la qualité de vie au travail ainsi que la performance globale de l'organisation.
All involved : Eligibility requirements
To participate in the survey and hope to be included in the annual ranking, our employees had to answer an anonymous questionnaire "Trust Index©" of fifty questions and achieve a 65% participation rate to be eligible.
In addition to validating our participation in the Great Place to Work® survey, the feedback from employees is very valuable to us internally, as it allows us to evaluate the actions taken during the year and to adjust our strategy.
We also need to complete the "Culture Audit©", a file containing managerial practices and actions implemented to improve working conditions.
The latter is evaluated by a Great Place to Work® team.

The Trust Index© score accounts for 75% of the final score and the Culture Audit© score accounts for 25%.
.
SQORUS, Great Place To Work for the past 9 years: our ranking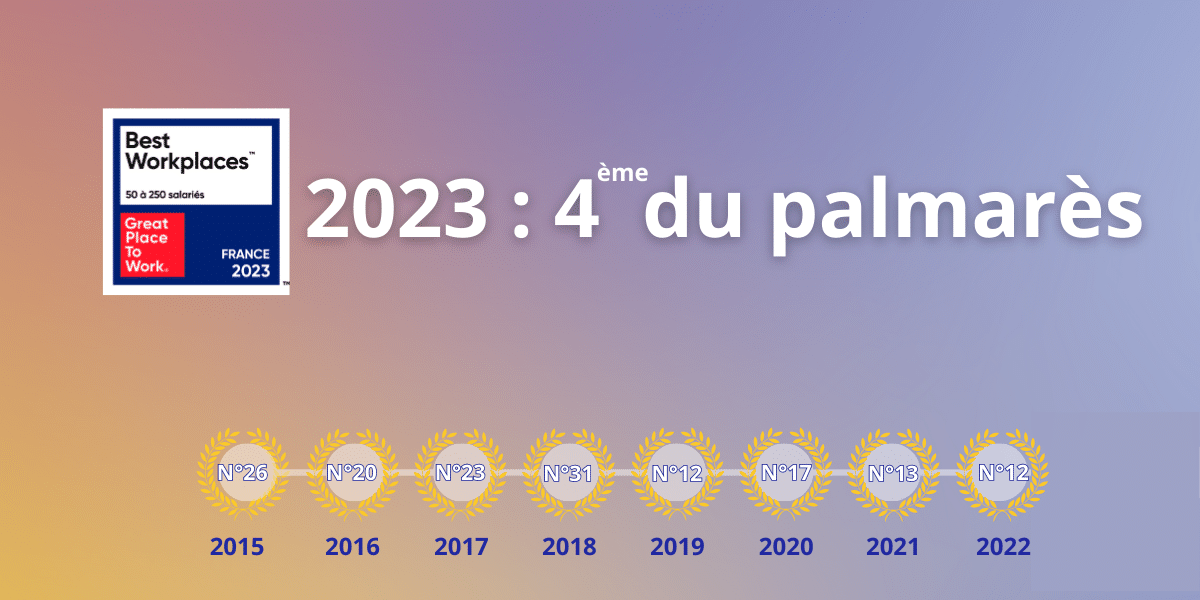 A permanent progression!
Congratulations to the 250 employees without whom SQORUS would not be such a great place to work!
The actions that make SQORUS a GPTW
SQORUS knows how to maintain a friendly and family atmosphere. We organize more than 30 internal events per year (afterworks, quarterly, aperitif, seminars, teambuilding…).
We have set up mentoring to facilitate the integration of newcomers and thus promote personal development.
In order to make onboarding more fun while reflecting our values and our organization, we gamified our onboarding process.
At SQORUS, the feedback culture cannot be improvised, it must be learned. We offer feedback training to all our employees. We encourage our employees to ask for feedback throughout the year (at the end of a project, during interviews, at the end of a trial period, etc.).
We also ensure the training of our talents, by multiplying the professional perspectives: our People Review is "evolutionary", in order to bring more flexibility in the evolutions and to give more perspectives to our employees.
Continuous improvement and innovation are part of the
DNA of SQORUS
Our consultants can propose innovation projects on our offers or processes in the framework of our SQORUS LAB.
SQORUS works daily to improve the work environment in the broadest sense. Entrusting projects such as
CSR
, the redesign of the premises or the Raison d'être, allows our employees to be actors of their daily well-being.
"For more than 30 years, our three pillars: Commitment, Diversity and Solidarity, have been the foundations of our success, encouraging the support of our teams and building a healthy corporate culture.
Amadou NGOM, President of SQORUS
"It is a company where I feel fulfilled and valued at my true worth. Honesty, transparency, excellence and high standards are the values that make me proud to belong to SQORUS.
Marie-Laure LEROY, Marketing Director SQORUS
"We remain convinced that the diversity of profiles is a source of innovation and performance for the company. Let's continue to work to attract the best profiles in our sector and allow them to flourish.
Amadou NGOM, President of SQORUS
"SQORUS is a learning company that allows employees to find an environment in which they can contribute and receive coaching that grows them and gives them more perspective."
Marc-Edouard BELLEST, Director of Operations
the opinion of our talents
of international projects
of employees think that SQORUS is GPTW
SQORUS, a company where it is good to work!
WITH SQORUS, GIVE MEANING TO YOUR CAREER!
Give meaning to your career and evolve in a company that builds together and helps each other!
Join us, if you want to :
To be part of a team wheremutual aid and solidarity are part of daily life
Take advantage of the experience of others to develop your own skills
Co-build with prestigious clients to conceptualize and configure their HRIS solution
STILL IN DOUBT? HERE ARE 10 GOOD REASONS TO JOIN US
SQORUS (formerly Des Systèmes et des Hommes) is a Digital Services Company (DSC) specialized in consulting in digital transformation of HR, Finance and IT functions. Our consultants work on for over 33 years with large companies on strategic strategic projects, à international dimensionaround information systems: evolution strategy, choice assistance, integration, Business Intelligence, Data Management, support and change management, but also on issues around the Cloud and Artificial Intelligence.
We have been able to adapt to new digital challenges, the arrival of the Cloud and changes in working methods. We have succeeded in forging strong partnerships with the main publishers in the market and in attracting business and technical experts.
Our strength: our 250 talents dedicated to the success of your projects and sharing strong values: diversity, commitment and solidarity, which constitute a real value for the company and its clients.
Great Place to Work for 8 consecutive years and Talent Award at the ESN 2018 & 2020 trophy, SQORUS is sensitive to the development of its Sqorusians, to their career evolution and to their training on future solutions.