SQORUS IS A QUALIOPI CERTIFIED COMPANY
SQORUS has obtained the certification QUALIOPI  certification, a national certification mark, quality of training providers. Issued by accredited certification bodies following an audit, this certification attests to the quality of the training services offered by the SQORUS teams.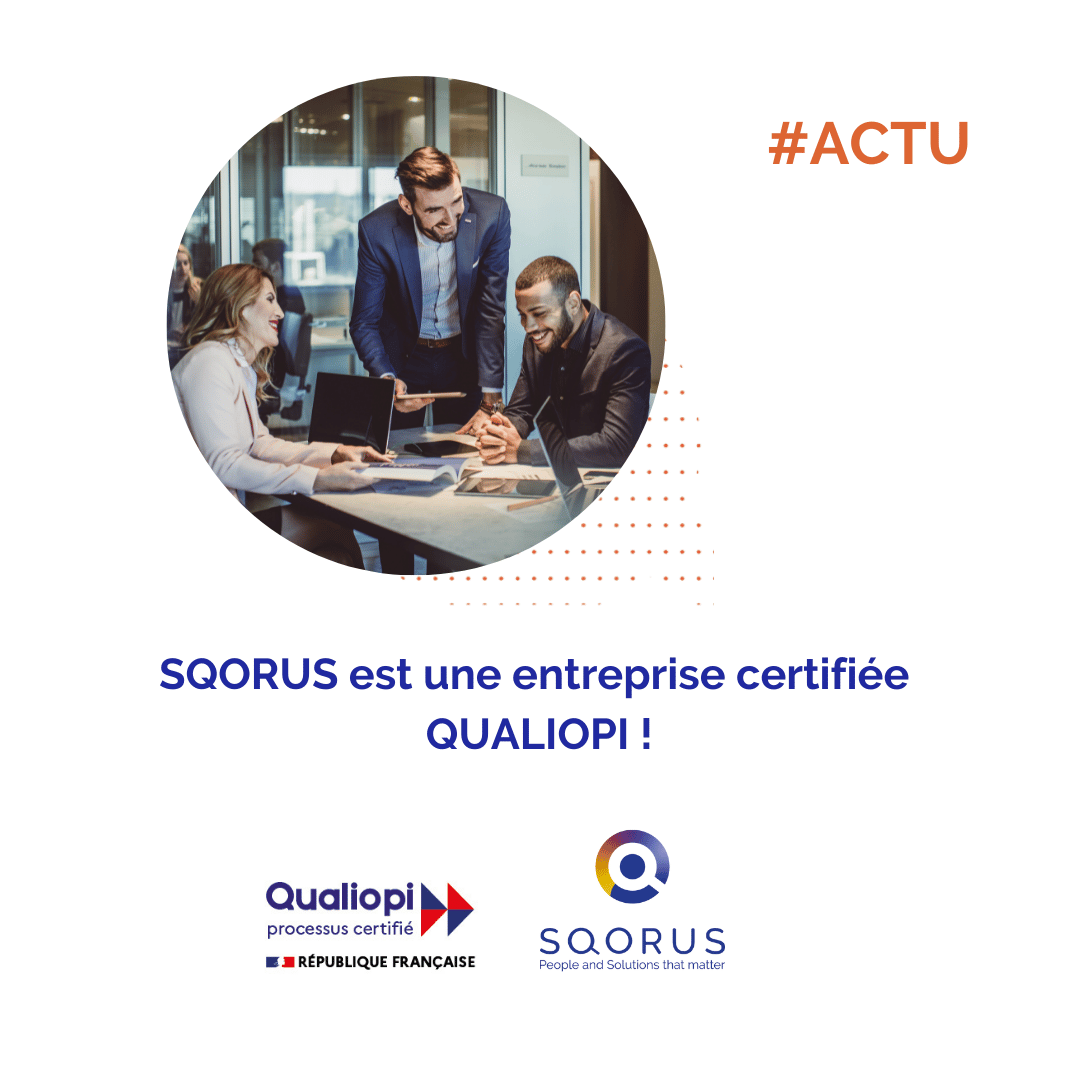 How is the QUALIOPI certification obtained?
This quality passport is integrated into a training process that meets the requirements of a national quality standard. The national reference system for evaluating training processes is organized around 7 quality criteria. For each of the 7 criteria, the reference system specifies the indicators to be implemented, depending on the category of action concerned (training action, skills assessment, VAE, apprenticeship training).
Consult the national quality reference guide
SQORUS certified QUALIOPI on training, what are the advantages for our customers?
► Benefit from the financial coverage of their training by public and mutualized funds (OPCO)
► Benefit from the expertise of a team of professional trainers Have complete and regularly updated training materials.
► Provide feedback on training through satisfaction surveys.
► Confirm SQORUS 's legitimacy and credibility in the competitive market of training professionals
Our teams of trainers are at your disposal to assist you in using your HRIS and ERP tools and to present our training courses on change management.
SQORUS (formerly Des Systèmes et des Hommes) is a consulting firm specialized in digital transformation of HR, Finance and IT functions. For more than 30 years, our consultants have been working with major companies on strategic and international projects, around information systems: development strategy, choice assistance, integration, Business Intelligence, Data Management, support and change management, but also on issues around the Cloud and Artificial Intelligence.
We have been able to adapt to the new digital challenges, the arrival of the Cloud and changes in working methods. We have succeeded in forging strong partnerships with the main software publishers in the market and in attracting business and technical experts.
Our strength: our 250 talents dedicated to the success of your projects and sharing strong values: diversity, commitment and solidarity, which constitute a real value for the company and its clients.
Great Place to Work for 9 consecutive years, SQORUS is sensitive to the development of its Sqorusians, their career evolution and their training on future solutions.