RECRUIT MOBILAPP BY SQORUS
An intuitive and ergonomic HR application to facilitate the daily life of all recruiters and HR functions. A must for TALEO users!
THE HR FUNCTION IS BECOMING MORE
CONNECTED AND MOBILE WITH RECRUIT MOBILEAPP
All your current recruitments with customized dashboards according to your objectives and needs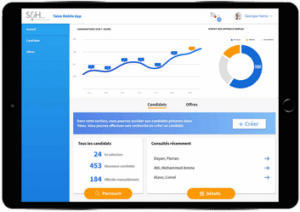 Your candidate files in 3 clicks, with the CV directly integrated into the profile thanks to the live photo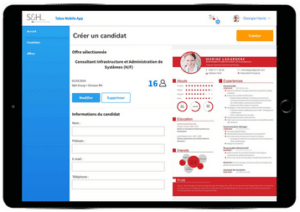 All your recruitment data: list of candidates, current offers, status of applications, job descriptions, etc.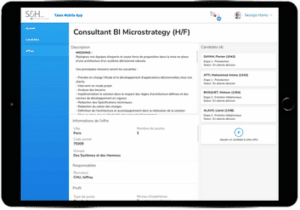 WHY CHOOSE RECRUIT MOBILAPP?
Simplified recruitment
Your HR information everywhere, all the time
More time for your future talents
A more digital HR department
The mobility of HR functions is becoming an imperative to reach out to teams and future candidates. With the People MobilApp HR application, HR Managers and HR Directors now have a human capital management tool at their fingertips
✓ A "responsive" design for optimal rendering on both smartphone and tablet
✓ HR app available for Android, iOS and Windows Phone
✓ A customizable interface with your charter, your needs and your objectives
Creating data is good; accessing it everywhere, all the time, is better!
The HR People Mobile App embeds all the functionality of HCM Cloud with web services to retrieve and interact with data from the HCM Cloud solution.
✓ A direct use of dedicated web services
✓ An update of employee data directly from the application
✓ A response time saving compared to the HCM Cloud web interface
✓ An offline mode to keep access to the application even without a network
People MobilApp by SQORUS integrates perfectly into the architecture of your HRIS by providing a mobile extension in the air of time.
In particular, it adapts to your authentication system thanks to the support of SSO (Single Sign-On), which ensures secure access in accordance with your existing practices.
Maximum compatibility of your TALEO HRIS data
Offline mode to work without a network and upload all your data once connected
An interface that adapts to your brand image
A 100% responsive and fluid tablet application