SQORUS is committed to the return to employment of people in fragile situations thanks to Acces Inclusive Tech
The partnership between SQORUS and Acces Inclusive Tech to strengthen its support services has made it possible to reconcile economic and operational performance with social impact.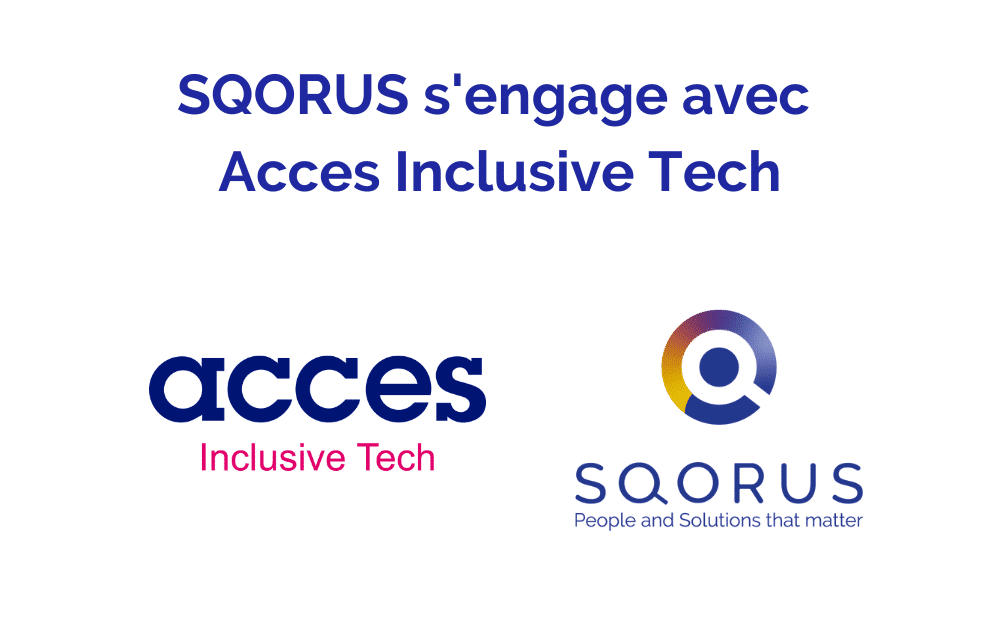 A positive outcome for the return to employment of people in fragile situations, thanks to the partnership with Acces Inclusive Tech
Three years ago, SQORUS reinforced its support services with the help of a digital company with a social mission, Acces Inclusive Tech.
As part of its integration projects HRIS and ERP INTEGRATION PROJECTS SQORUS teams offer maintenance, support and life cycle management services for HRIS and ERP solutions.
In order to offer its customer ENGIE an end-to-end support service, SQORUS was accompanied by the teams of Acces Inclusive Tech to ensure the first level of support.
Acces Inclusive Tech enables the professional integration of people who are far from employment (young dropouts, workers with disabilities, seniors who have left the job market, migrants, etc.) by having them work on its client services.
The company's mission is to turn digital technology, usually a barrier to employment for the most disadvantaged people, into a factor of inclusion in the world of work.
A return to employment for 11 people in vulnerable situations
Through this partnership, SQORUS was able to combine its know-how in support and its social commitment, while allowing Acces Inclusive Tech to offer professional training to its teams.
" Acces Inclusive Tech's organization, the commitment of its teams and its professionalism allowed us to successfully complete this project while respecting the service requirements. Making a positive and lasting impact is the foundation of our raison d'être. We are very proud to have been able to contribute to the accompaniment of people in difficult professional situations and to allow them to regain their self-confidence in order to find a job. "says Marc-Edouard Bellest, Director of Operations at SQORUS.
Thanks to its client's commitment to this project, SQORUS and Acces Inclusive Tech have been able to demonstrate the relevance and effectiveness of this collaborative model, which they are committed to renewing each time the conditions for success are met.
" It was a great joy to be able to reconcile economic and social performance in a climate of benevolence and professionalism with the SQORUS consultants on a daily basis! The Support service has been an excellent support for work, professionalization and return to employment for the employees of Acces Inclusive Tech. The results of the social impact testify to this: more than 88% of positive exits – back to employment or training leading to qualifications "Jean-Christophe Arnauné, Director of Acces Inclusive Tech, said.
about acces inclusive tech
Created in October 2016 by the Ares Group, Acces Inclusive Tech is a digital company with a social mission that relies on the skills of a team composed of 60 employees, including about 40 on a pathway to a return to employment.
Acces has developed a springboard course that is largely inspired by companionship to help people in situations of exclusion to find a job: young school dropouts, disabled workers, long-term unemployed seniors, migrants and refugees.
Acces Inclusive Tech provides large companies with digital services covering software testing, complex SAP-type projects, user support, data quality and administrative back-office missions. It has accompanied more than 150 employees since 2016 and thus boasts an 80% exit rate into employment or training. Among its main clients are Engie, AXA, the AIFE which depends on the Ministry of Finance, EDF, Accenture and SQORUS.
Acces Inclusive Tech belongs to the ARES group, the leading player in the field of social integration through economic activity in the Paris region.
http://acces-inclusivetech.fr/
SQORUS (formerly Des Systèmes et des Hommes) is a Digital Services Company (DSC) specialized in consulting in digital transformation of HR, Finance and IT functions. Our consultants work on for over 33 years with large companies on strategic strategic projects, à international dimensionaround information systems: evolution strategy, choice assistance, integration, Business Intelligence, Data Management, support and change management but also on issues around the Cloud and Artificial Intelligence.
We have been able to adapt to the new digital challenges, to the arrival of the Cloud, and to changes in working methods. We have succeeded in forging strong partnerships with the main publishers in the market and in attracting business and technical experts.
Our strength: our 250 talents dedicated to the success of your projects and sharing strong values: diversity, commitment and solidarity, which constitute a real value for the company and its clients.
Great Place to Work for 9 consecutive years and Talent Award at the ESN 2018 & 2020 trophy, SQORUS is sensitive to the development of its Sqorusians, to their career evolution and to their training on future solutions.