Metavers, what are the first controversies?
The metaverse has great potential for businesses, but it also carries certain risks that must be taken into account. Based on the information we cited in our first part on what metavers is, it seems interesting to inform you about the controversies surrounding metavers.
Metavers: a universe in the making… but already facing controversy
We are aware that for some people, we are going to break down doors that are already open. We assume the will to make a point – again non-exhaustive – fast and selected on the controversies surrounding this parallel universe.
Metavers: what are the main controversies encountered?
The problem of time of use in the metaverse
The first of the metaverse controversies arises from a simple rebound to Zuckerberg's statement (see box above): " It's not about spending more time on screens; it's about improving the time we already spend " (translated.)
Considering the documentary "The Social Dilemma" (2020) which tells, via our "favorite" social media, the exponential rise of theattention economy as well as its drifts, it is important for us to measure, to temporize this statement of the boss of Facebook-Meta.
Let's take the example of training via the metaverse: this will be/is indeed a subject, in the light of a digital transformation of this disciplinary field which has accelerated, amplified due to the health crisis we have undergone and are still undergoing.
The problem of user attention time in the metaverse
A corollary of the time of use and an important point, once again in the context of a " Learning Metaverse ": the average attention span.
In 2016, Aberdeen published a study stating that " when a site takes a second or more to load, 40% of visitors abandon the site, and when it comes to an online conversation, 7% of us throw in the towel " (itsocial.com).
Whether it is with this study, or the above-mentioned documentary, it is the neural circuit of the reward which is targeted… and which will have to be questioned and optimized, considering the youth of the metaverse and the very important quantity of data necessary for it to "run" well.
Metavers: a new and disruptive environment, or a large-scale incremental innovation operation?
Virtual worlds are actually not new. For the metaverse announced by Meta, one cannot help but think of Second Life (2003), " an application that proposed a virtual world in which anyone could build a space, create objects, personalize their avatar and even buy and sell services " (J. Bergounhoux, 2021).
The metaverse proposed by Meta, Microsoft and others finds its inspiration in video games, especially massively multiplayer online games: we think of Fortnite, Minecraft, Roblox, etc.
This metaverse would therefore be more of an incremental innovation of the Internet as we know it (the Internet would be the foundation of this new universe) than a disruptive innovation.All the more so as its composition is still…unclear.
Finally, thanks to this infographic, we discover a fertile playground for organizations and disciplines, environments that will be developed there.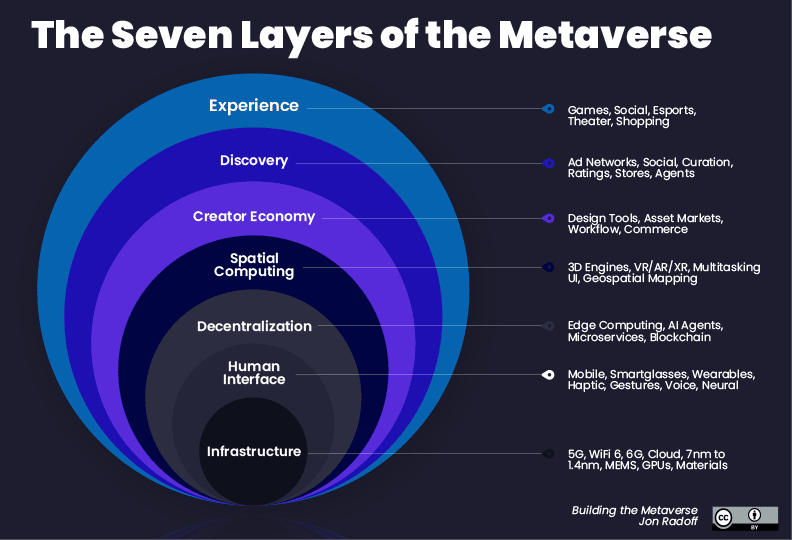 Gartner, a leading player, which defines technology maturity cycles in its report published in the summer of 2022, estimates that the metaverse will be ready within 10 to 12 years.
Metaverse: from fantasy to reality
The film "Ready Player One" (Spielberg, 2018) presents in its opening scene a metaverse that "sends the dream" (admittedly), presenting a rendering that would match the "finished product."
Metavers, the drifts: dependence, solitude in the real world
Today, we are very far from it. What should also be noticed and noted is that after modeling the tip of the iceberg, this 5-minute scene – under the guise of a scripted summary and clever staging – presents some of the drifts of this universe:
dependence ;

loneliness;

family and social disconnection,

…
…in the real world.
Metavers, the limits: cost and monetization
The other side of the coin: the cost and monetization of such a universe. Virtual reality and immersive techniques in training are effective, have been successful, are still successful and are becoming more and more popular, but we agree that they are not, to date, cheap.
As for monetization – because such a universe will have to be financially maintained – this is a challenge to be anticipated by company managers as well as by IT and HR teams. Imagine for a moment that your employees are on the " e-Learning planet" and that between 2 modules, they are asked to go and browse resources in a large bookstore or library.

Equipped with a VR headset or in front of your screen, the excess of ads/notifications to promote "just released" off-the-shelf e-Learning content is quite possible! An excess of ultra-connectivity that has already been imagined :
Keiichi Matsuda, HYPER-REALITY, 2016
Metavers, the drifts: attention time
Finally, let's come back to attention time: research has shown that VR and its headsets have negative, even harmful impacts not only on eye strain, but also on well-being and productivity (study on a panel of Meta Quest headset users for 40 consecutive hours).
If VR is indeed one of the "prerequisite" elements ofaccess to the metaverse, Gartner's forecasts plead for a progressive use, because according to the latter, 25% of people will spend 1 hour per day in the metaverse… in 2026.
In conclusion
The metaverse has great potential for businesses, but also carries certain risks that must be considered. Applied to the world of training, new fields of application are opening up. But is the metaverse ripe for training? What about its use in education? To learn more, find our 3rd and last part on the metaverse in the service of training, on January 12, 2022 directly on our blog.
If you are interested in the subject of innovation, the SQORUS teams are here to help you. Do not hesitate to contact us to discuss it.
DOWNLOAD THE FREE WHITE PAPER
YOUR 13 AREAS FOR IMPROVEMENT TO BE IMPLEMENTED AS SOON AS POSSIBLE